This week in brief.
20:18
This past week, it was announced that there's gonna be a limited edition run of 400 copies of Brother's Blood by Kevin Devine on vinyl at Big Scary Monsters and I managed to snag one when they went on sale. I got it today and I am so happy.
I have another one of my favourite albums of all time on vinyl. Call me a hipster, but who is starting to build a nice vinyl collection she's proud of?! Well. Fuck... never mind.
I've also been totally obsessed with
Tegan and Sara
recently, especially their newest album
Heartthrob.
Fans of the two piece may have been a bit taken aback by the sharp difference in sound when this came out in 2013, They still hold on their strong indie pop roots, but they infused in a large blend of dance-y pop. It's very different from the material what they started off with, but that's progression, right?
I mean, they did collab with
Tiesto
for a song in 2009...
...while Tegan had offered her vocal's in the Against Me! song Borne On The FM Waves of the Heart a year eariler. It's all about expanding horizons.
I personally, think what they're doing is fucking great. There's nothing better than being able to cry at a song on The Con, then being able to have a solo dance party later on, to a song like this:
In other news, I've also totally fallen in love with
Chrissy Barnacle
.
I met her last year at a TYCI introductory meet up and I remember her being super lovely and mentioning that she was a singer-songwriter. I had since taken note to listen to her tunes, but have actually not done so until very recently. She's unlike anything I've heard or listen to. It's hard to believe that when she sings that she's doesn't hail from America or Canada because it's just so different. But I think it's so wonderful. Her music is an injection of what this scene needs. Really lovely stuff.
To anyone that interests in touring/drumming/music in general and/or Hole, I thoroughly recommend the documentary Hit So Hard, which concentrates on the drummer of Hole, Patty Schemel.
Kurt, Frances, Patty.
I was never too interested in Hole until now, and Courtney Love has always kind of irked me so originally I wasn't really interested in watching this. A documentary about a drummer? Can't be that interesting, surely. But she wasn't just a drummer. She was an addict, a girlfriend, and the glue that held the band together. She was good friends with Kurt Cobain, someone I am fascinated with. If you care about music in any sense, watch this documentary.
Finally, I currently have two other exciting escapades. I am partaking in the Behind The Noise trainee programme, and I'm also working with First Run Records.
There are some exciting few months coming ahead with BTN that I am really excited about, and I will be updating my blog as things happen/develop.
At First Run, I'm helping them out at the moment in the run up to their First Run Live show at the Barras Art and Design centre - or BaAd - at the end of the month. The poster looks like this: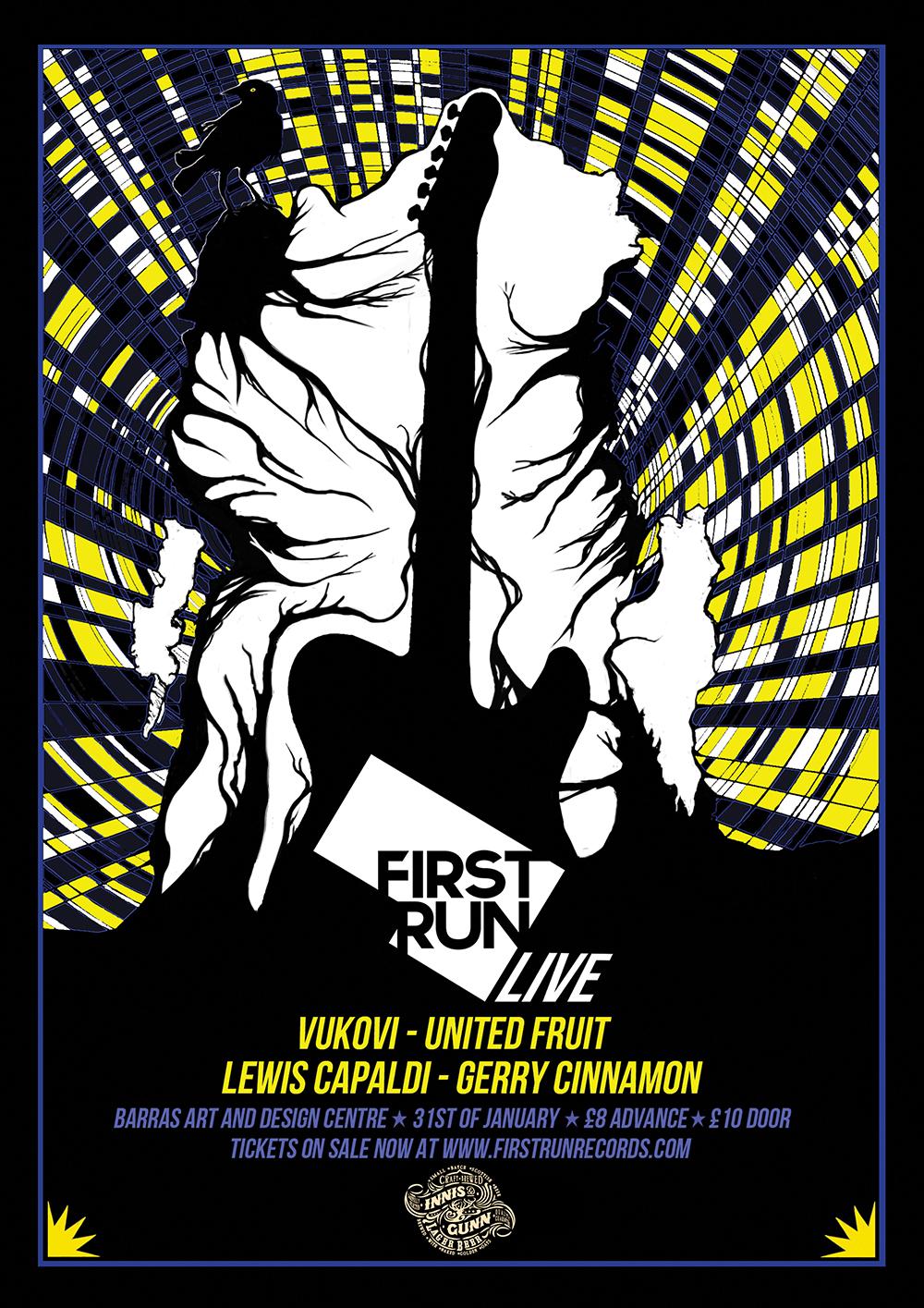 The guys that work at First Run really have their heads in the game in regards to the current climate of the Scottish industry and what they're doing could potentially expand into something massive.
*Disclaimer: No disrespect to vegans, I am joking. I may or not may not be considering veganism myself. Potentially. Maybe.